February 03, 2016
A message from Tom Mulcair: La Loche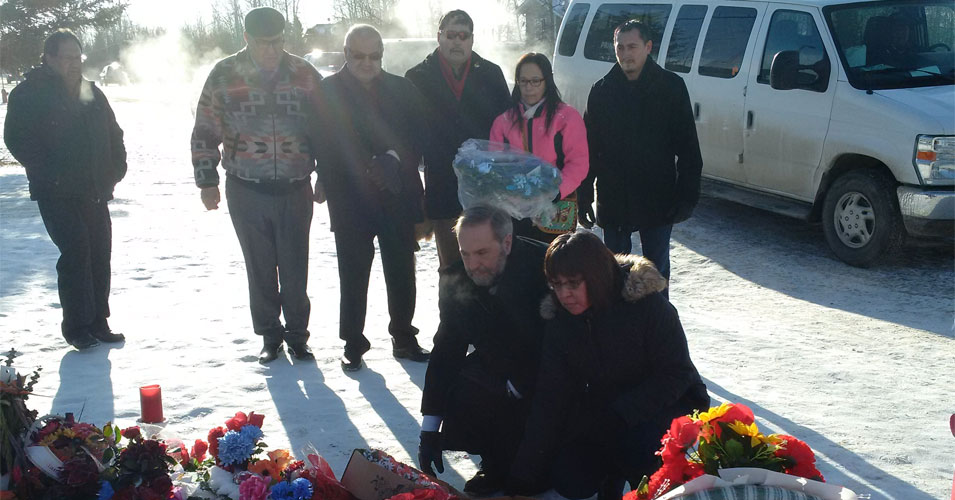 I had the honour of visiting La Loche, Saskatchewan with our extraordinary new colleague from the area, Georgina Jolibois, the MP for Desnethé—Missinippi—Churchill River.
As you can imagine, the community is still reeling from the tragic shootings involving the local High School. On Tuesday, two student victims were buried.

I had the opportunity to meet with many members of the community, including medical personnel, students and a courageous High School staff member who is recovering from her wounds.
The pain and fear in the community run deep but so do the scars of centuries of colonialism, racism and indifference. The people I met in La Loche are resilient and resolute but the shootings that occurred here are a Canadian tragedy and we, as a country, have to face some tough questions.
Condolences are not enough.
From boil water advisories and inadequate housing to systematically underfunded schools, too many young people in Indigenous communities like La Loche are losing hope. Suicide rates among First Nations youth are many times the national average. 
In a meeting with the Prince Albert Grand Council, I got to listen to elders and chiefs whose strength and wisdom are inspiring. They know that the future of their culture, the future of their nations lies with young people.
Improved teaching of native language and culture is one of the most important recommendations from the Truth and Reconciliation Commission. There's no excuse not to implement this recommendation right away. It's a first step in establishing a true nation-to-nation relationship with Indigenous peoples.
As social democrats, we have made the fight against inequality our mission in this country. Today, I am more committed than ever to fight for a Canada where the pain of this type of tragedy is never felt again.

Tom

Tom Mulcair
Leader
Canada's New Democrats